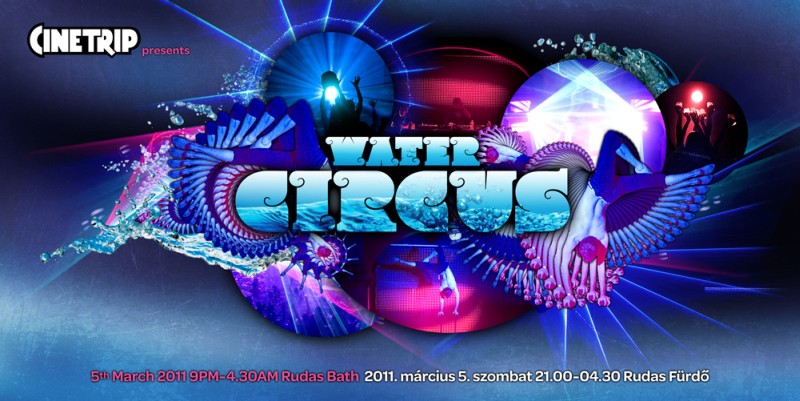 On March 5th Cinetrip will bring forth that much needed springtime buzz, rejuvenating your body and your spirit with its unique sparty fun of sense-tickling music, visuals and circus performances.

Cinetrip presents Water Circus
5th March 2011 9PM-4.30AM
Rudas Bath (9 Döbrentei square, H-1013, Budapest)
PROGRAM:

Audiovisual Light Therapy Pool:

Djs: Subotage / Crimson / Mira
Visuals: Skylab + 'Cascade of Light' show
Performances: Duotrixx - fire juggling / Debora the Queen of the Skies - acrobatics

Plage Auditorium:

Djs: Ali Bishop / Waxman / Marvin
Visuals: Bpstreet Visuals

Turkish Bath:

Djs: Kaszi / Jácint
Performance: Amira and the Huris of the Bath - belly dancing

Cabin Disco:

Djs: Sanyi / Solid
Tickets:
Advance tickets 8000 HUF until 3rd March, 10000 HUF after 3rd March or on the door / Advance tickets available at Merlin (4 Gerlóczy street, Budapest, H-1052)
Door policy: strictly 18+!
Spring-y swim suit recommended, flip flops are required, and a towel comes in handy.
Attention! The thermal bath may contain sodium, calcium, magnesium, hydrogen-carbonate, sulphate-chlorid, fluoride-ions, drops of primavera and our love potion.
Booking your apartment in Budapest centre from BudapestDreams.com and enjoy in Budapest, also in Budapest baths with Cinetrip.